How long have you been AuroraHut partner?
We got our igloo boat quite early in the pandemic, after the boat show in the spring of 2020. In Helsinki, we needed separate permits to keep an igloo boat and this process took longer than we expected. We started selling the accommodation in Sipoo, where it combines very well with our snowmobile safaris. We have made a package deal for our customers which includes transportation from Helsinki to Sipoo and back. In most cases, foreign tourists take the offer and at least last winter it worked really well. We bring them to Sipoo from the city, take them on the snowmobile safaris, put on the sauna for them and after that they usually kick sled to get something to eat and in the end spend the night in the igloo boat. We will then take them back to Helsinki the next day after their stay.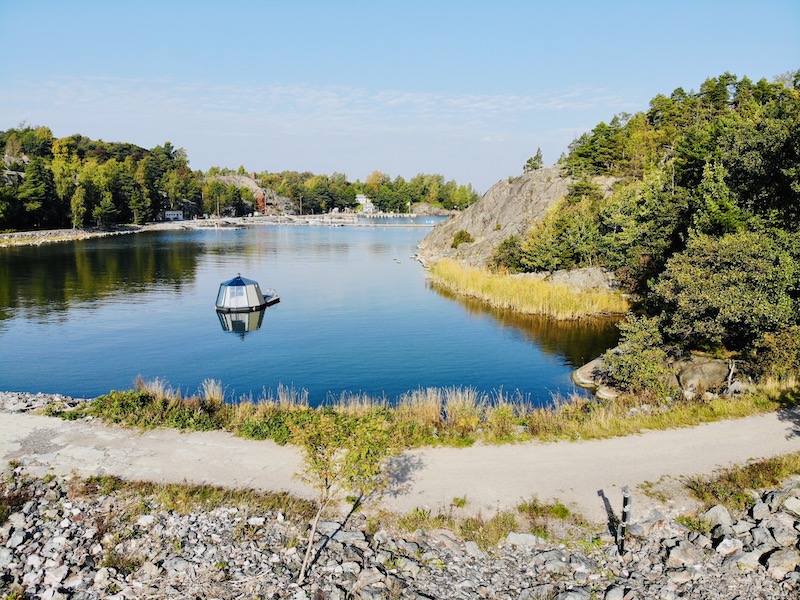 What has been the best thing about AuroraHut?
All in all, the products itself is really great and it works really well. It is well done and everything has so far worked as it should have. It is also well-suited to nature, it is ecological and in line with green values. It's a good addition to our already business and we get a lot of extra sales because of it. It had been absolutely brilliant for that purpose.
What kind of feedback have you received from the customers?
We have only received positive feedback from customers. We always send a feedback survey to them after the visit and the feedback we have received from there has been only positive. It's nice to get such good feedback and I have to say that the igloo boat is a truly unique experience for customers. Everyone has liked it, even if it has been windy or rainy during their stay. As a whole the experience is much more than just an accommodation. It's an experience overall. When the igloo boat is anchored in Vallisaari, the landscape also changes up to 360 degrees as the wind changes its course.
Customers have specifically emphasized that they liked the igloo boat as a whole experience. They have also liked Vallisaari a lot. Last year's art exhibition in particular was to the liking of many and it also brought a lot of visitors to us. The experience in the winter has also been absolutely amazing and many of them have said that they will come again to try the experience in the summer as well. Since our igloo boat is in a different place depending on the season, our customers' get two completely different experiences. In summer the igloo is more in the outer archipelago and in winter in the inner archipelago.
We've found that the AuroraHut igloo boat is an experience in itself. People often don't require a lot of activities besides their accommodation. Especially in summer when the igloo boat is in Vallisaari. There the guests will check in independently and row their way to the igloo boat, where it is anchored between Vallisaari and Kuninkaansaari. They can freely use the SUP boards and kickboards while their stay to explore the island. If customers want a private transportation, we will bring them by a boat from Katajanokka to Vallisaari. Some foreign tourists have wanted to add that kind of sight- seeing tour to their stay. Customers often don't require any additional activities since just staying in an igloo boat is such a big deal. We have also had clients who have not left the igloo boat or its proximity during their entire visit, not even to go see the island. They might have done a little SUP boarding or rowing but haven't even explored the neighboring island. They have liked being in the igloo boat so much.
Why would you recommend AuroraHut?
I can definitely recommend AuroraHut to both customers and other entrepreneurs. Recommending to customers is kind of obvious since it is such a great experience in every way. It is unique and not really comparable to any other kind of accommodation. It is a luxury product on the water and all of its details have been designed very well. Customer service also works very well at AuroraHut. We have been more in contact with them this spring. They frequently send us messages to check up on us and service our equipment as needed. Overall, maintenance has worked really well. Customer service always responds quickly to our messages. In the winter, they came to us unprompted to install an update on the heater, and other software updates are always taken care of quickly. Trust in AuroraHut is high and we feel like we are not alone. We should make more Finns realize how unique this product is as they are very used to boating. A couple visited us last winter after setting their own boat for winter. They wanted to experience the igloo boat even though they had their own boat. The igloo boat is such a unique experience that is cannot really be compared to a traditional boat.
What would you hope to get in the future from the collaboration with AuroraHut and what kind of new products or innovations would you like to have to support your business?
The product itself works very well. The only innovation or improvement that could possibly be made to it is even more efficient heat control or its intensification in summer, for example with a fan. We turned our igloo boat in the direction of the wind to give our customers a possibility to open the door towards where the wind comes and thus enhanced ventilation during the hottest summer months. For example, films or screens to be placed on the ceiling or some other solution could be a good thing to add so that it is not obligatory to put the marquees in summer. This would allow guests to admire the sky and sunset even in summer. Of course, when the sun rises at four, it may be a good idea to keep the marquees on anyway, as it provides some protection from the bright rays of the sun. Also, developing some sort of fridge or a cooling element could be a good idea, even if it is not really needed during the winter. We got a small fridge for our own igloo boat for the summer, which has worked really well. Otherwise, the product has been really carefully thought out. Everything has been made to fit in a relatively small space. Overall a well-designed and well executed product.
I really like how AuroraHut markets all its different AuroraHut destinations on its webpage. We have also got a few customers from there. Of course you could always get more. This aspect came as a positive surprise to me when the collaboration began. The webpage also works well as a marketing channel. The product itself is excellent. However, we could increase the interest towards AuroraHut and the product here in Helsinki as well, especially to new customers and entrepreneurs. One customer who visited us was really enthusiastic about the experience and wanted a similar igloo boat for his place in the Netherlands. Many customers are also excited at the possibility to buy and igloo boat for example for their cottage. It is a quite expensive product but you get so much more than just an accommodation with it, e.g. support, maintenance, marketing etc. When you get your business running well, it will pay itself back.