How long have you been AuroraHut partner?
We started as an AuroraHut partner in January 2022. We have started small so we have not had huge amounts of customers yet. We do not have our webpage running yet but we are moving along with steadily and slowly to get a feel of it. We did kind of start in the worst season since there is a lot of ice and a lot of snow. So, from January until now it has only gotten better and better because the igloo boat is now able to lay on the water and float freely. I am going to put the dock and get the motor on so we can try the boat part of the igloo boat as well since we have not tried that yet. We have nice spring weather here now and it is starting to feel a lot warmer outside.
What has been the best thing about AuroraHut?
That is actually a hard question because I am so satisfied with the relations I have had with AuroraHut from the beginning. They have been so helpful and handled all my questions in the beginning. For them nothing is a problem since there always is a solution. If I need help, I will always get it. I really feel appreciated since I have never felt that I am here alone and do not know what to do since you always help me. You are always quick to respond. It is amazing to have all the support since it is a completely new market and a product for me. I have worked with extreme amounts of customers and companies and you are at the top with the customer service. I think you have all that working remarkably well.
On the other hand, the product is also very good. We actually have bought our AuroraHut igloo boat without even seeing it. Because of the corona situation, we could not go to visit the factory or any other place to see them in real life. So, we just kind of took your word for it. Usually when you buy something, you might have made a picture of what it is going to be and might end up getting a little disappointed with something. When I got the igloo boat, I expected that it would not be made with as good in materials and quality as I was told. Once I got it, every little detail is well thought of and it is extremely high quality. I expected that since you have not done this for that long that there would be kind of small hiccups and things you had not thought of but when it comes to the AuroraHut, I have not found a thing. I am so impressed with the small details and all the things you have thought of that I would not even dream to think of or expect that would be in the AuroraHut. I am very impressed since it really is an extremely good product and it is so easy to run and maintain. I have never bought anything where I have been this positively surprised by the quality and the feel of it all. I felt like I was expecting to be delivered something not that good but got something that was a lot more premium than I expected. That was a very pleasant surprise.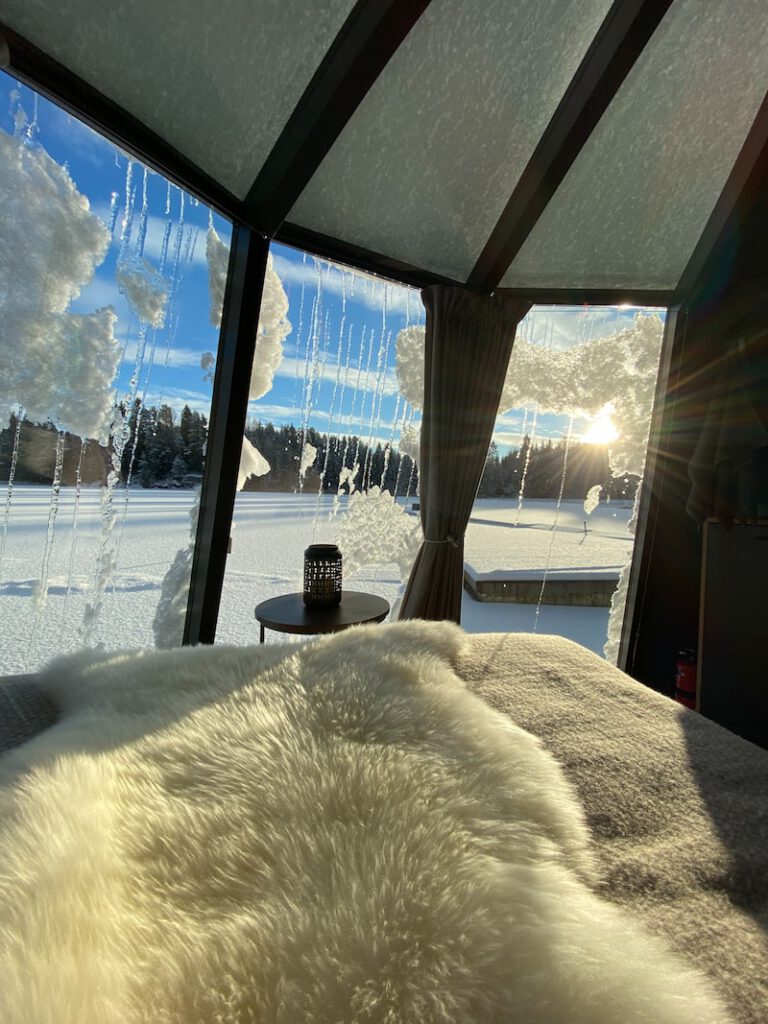 What kind of feedback have you received from the customers?
I have only gotten top scores from every visitor I have had here. On the accommodation, on the bed, on the feel of it all. They think that it is so cool that they have this experience with the windows, the 180-degree view. To be able to look at the sky and look at the nature. They get the feeling of sleeping outside but still have this element of luxury. Every customer that comes to us, I personally meet and take them down to the AuroraHut. I show them around and show how it works. That is kind of the additional thing, besides the product, that we can give to them to make the experience even better. We got a lot of positive feedback about that since we meet them personally when they arrive and leave. We always strive to serve them to the best that we can. Everyone is so positively surprised, just like I was when I got it.
When it comes to social media, I think you cannot run a destination like this without it if you want to be in touch with the younger generation. You get so much free promotion if you do it right which makes it very important. We get lot of comments and lot of people telling us that they really appreciate it because they are able to get more pictures and more information. People like that they are able to watch all the videos we make on TikTok. That way you really get a feeling of what you are going to experience and what you can expect from your stay.
Another thing is that every customer that has been here to visit us, everyone says that they will come back and to possibly try it on another season. I expect that 75% of the customers we have had will be coming back this summer. They also say that the experience was so amazing that it would be great to come back even for the same kind of season. We always move the huts around a little so that they can always get a bit different experience. I have had a few customers to stay with us even when the weather has not been that nice but they have been so satisfied. It was very foggy outside or it rained all day but they were so satisfied since they could just be inside this cozy luxury cabin and for them it kind of felt like part of the movie. It is also good to have this kind of accommodation that not only has a season from May to September but that you can actually use year-round. It is so easy to place on the ice in the winter and generally easily movable. If a customer has stayed with us before, we can move the hut to a new location for them.
Why would you recommend AuroraHut?
As I said before, the product is way beyond my expectations. I think everyone can easily learn how to maintain it and have an AuroraHut. The barrier to getting started with such a product is low, even though it might feel like advanced and high-tech. It so friendly to market out since it really sells itself very easily. It is something that people have not seen before. It has a nice design and it is great how it blends with the nature. That is why the AuroraHut igloo boat was such a natural thing to include into our lifestyle. It is so environmentally friendly and it does not leave any imprint on the nature. We love the nature and are very careful on how we use it since we live among untouched and wild land. That is what I really appreciated about the company and the AuroraHut igloo boat. It can be a part of nature without leaving any imprint to the nature regarding any toxins on the boat.
What would you hope to get in the future from the collaboration with Aurora- Hut and what kind of new products or innovations would you like to have to support your business?
I hope that we can keep the relations that we have. I have really appreciated them. I can already say that I will expand to purchase more AuroraHut's from you. That's our goal at least to be able to expand together with you. I hope that you will continue your good innovations since you have very good innovation thinking, like the sauna, the hot tub and the small add-ons. I wait with excite- ment to see what you have and will probably implement these to my business as well. I just need to get the business going steadily and then I will probably invest in a lot more.
One thing I could add is that since the AuroraHut is already in the nature and surrounded by it, it is very easy to add-on to the, what we here in Sweden and Norway call adventure tourism. That is also something that we want to expand. While we expand with the AuroraHut's we are planning to expand with the expe- rience offerings to our customers. Meaning kayaking, hunting and so on to sup- port the company. It is not often that you have a product that you can so easily add-on so much more. From the business point of view, you can then generate a lot of additional revenue on the side of the already existing revenue from the accommodation.